The FORME Studio is a gorgeous, immersive workout mirror which can completely replace the gym
A feature-packed fitness mirror which prizes style as much as substance, the FORME is the latest brand of smart home exercise equipment to hit the market.
Similar to other popular fitness mirrors (think Lululemon Studio Mirror, Tonal, NordicTrack Vault, Tempo Studio and Pro-Form Vue), FORME offers a ton of training options behind a sleek mirrored facade. And its classy Yves Behar design (the industrial designer behind some seriously beautiful gadgets, like Samsung's The Frame TV), puts a premium on how it looks in your home — without sacrificing space. In fact, the only detail that clues folks into its true use are the two front-facing, 12 megapixel cameras located about 1/3 of the way down the mirror on either side.
FORME offers two versions, both of which carry a $49/month membership fee. The Studio ($2,495), is a screen only, "bare bones" model — and I use that term loosely — that includes a yoga mat, heart rate monitor, microfiber cleaning towel, camera covers and mounting hardware. Then there's the Lift ($5,995), a tricked out, all-in-one gym version that has arm attachments that offer 200 pounds of total resistance, and looks to me as if the Lululemon Studio Mirror and Tonal had a smart mirror baby. Included in that hefty price are all of the extras of the Studio along with two FORME Handles, a premium rope grip, two ankle straps, a short bar and a storage cabinet. For barre lovers, a removable wooden barre attachment can be added to either model for an additional $295. With that you'll also get barre socks and a barre ball.
If you are in need of a personal trainer, there's an option for that too. A current promotion is offering the first month of training for free (usually, it will be discounted for $99), which includes an introductory session for a movement assessment. After that, pricing depends on how frequently you want to see your trainer, though it starts at $399/ month for 4 live sessions every month, daily access to your trainer via email or text, a few custom workouts and unlimited on-demand workouts. However, If you decide to go with a training plan, you won't have to pony up for the separate $49 membership fee, which is something to consider.
I spent more than a month testing out the FORME Studio complete with 5 sessions with one of their personal trainers. Is it worth the steep price tag? Here's what you need to know.
The FORME Studio is a new addition to the fitness mirror space, but comes in hot with a gorgeous design and celebrity trainer-led streaming classes. A pricey choice, FORME offers style to its space-saving design — and excels when it comes to in-home 1:1 training.
There is nothing more frustrating than a gadget that is painstakingly hard to prepare for use. To get a sense of this, I told the delivery guys that I would connect everything myself. Luckily I did not regret this decision. (You can also opt for the white glove delivery and installation service for a fee: $250 for the Studio and $500 for the Lift.)
First things first: The Studio, which you can wall-mount or simply lean against a wall, is freaking heavy — weighing in at 102 pounds. Initially I had the delivery guys lean it against a wall in the bedroom. A few days later I decided to change its location so I had to drag it across the wooly carpet in the bedroom by myself. It definitely wasn't easy, so I'd say plan ahead and know exactly where you want your Studio to go.
While the Studio doesn't feel like it requires a ton of space, the website advises allocating a 6 ft x 6 ft space with a minimum of 7 ft from floor to ceiling. For comparison, a larger piece of equipment, like the Peloton Tread, has about the same floor footprint.
After plugging in the FORME via a standard three-prong electrical outlet (and you'll need access to an actual outlet because the company says it is not compatible with extension cords or surge protectors) there were a few housekeeping details to attend to: connecting it to WIFI; setting up a profile; and doing a quick fitness assessment, so that your new virtual workout buddy can ascertain your fitness level and recommend a few initial classes.
My FORME was ready for action five to seven minutes later and so was I.
One touch of the mirrored FORME surface grants access to an extensive library of exercise content—I'm talking more than 700 classes— including barre, breathwork, cardio, core, meditation, HIIT, Pilates recovery, strength, specialized training (think training for boxing, golf, surfing and being jet lagged) and yoga. On demand classes, which are viewed on the 43 inch ultra high definition 4K screen are led by expert trainers. Even celebrity trainer Harley Pasternak (think Ariana Grande, Lady Gaga, Alicia Keys), chief fitness officer for FORME, has a series of classes users can take.
While I took a variety of classes — and loved them all — the first was a 30-minute advanced full-body strength class with Wes P. When you first tap on the class, you are given a heads up of the equipment you'll need as well as the moves you'll be performing, down to how many rounds and if you are doing it for sets or time.
As you make your way through the class, you see the time of day, how much time is left in the class, your heart rate with a Bluetooth connected heart rate monitor or Apple Watch. When time is up, you'll get a check on the day of the week you worked out as well as calories burned (if that heart rate monitor is connected, of course). You'll also get recommendations on other classes to take based on your latest sweat session.
Also noteworthy: You can connect bluetooth headphones to the FORME so that those around you aren't subjected to listening to your workouts.
In addition to on-demand classes, the personal trainer element is a game changer. For testing purposes I had five sessions with Joe S. — who I found to be very knowledgeable, challenging and fun. I typically hate virtual one on one training sessions because I like being IRL with my trainer. Yet, something about the size of the FORME (and the size of my trainer in the mirror) made me feel like we were in the same room. I particularly appreciated that he could make his picture bigger from his end, allowing me to see him clearly when he was demoing moves and then swap and make my picture larger so he could assess my form and give me pointers.
When in the personal training mode, you'll also be able to see the name of the exercise on the screen plus the number of reps and/or time. If using weight, the suggested poundage will also be displayed. Also, I communicated with Joe S. via email which is where we scheduled sessions and he let me know when he would drop customized workouts in the Studio for me to do when he and I weren't training.
One virtual, training session per week is included in the 1:1 package, and your trainer can also choose some on-demand classes for you to do between your sessions as well as drop in a customized workout. This seemed like a great touch, considering how much it costs.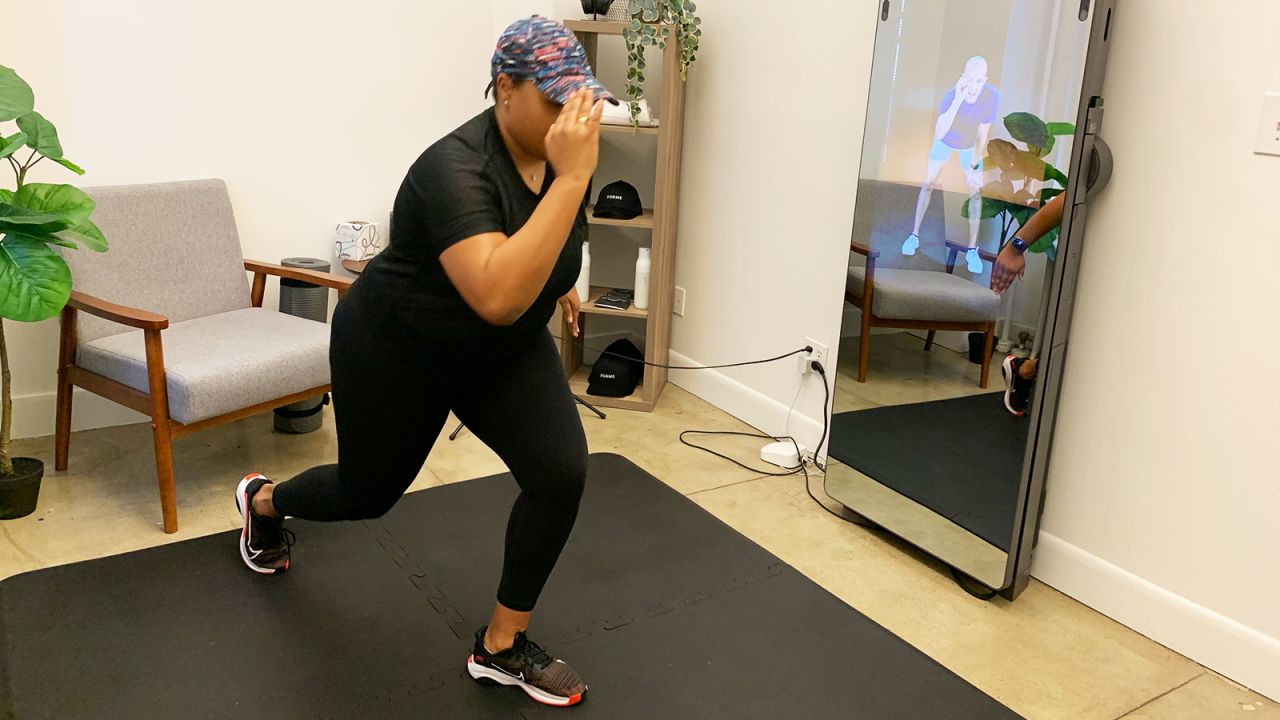 If you're going to add home gym equipment to a main room, it pays to have it look like a full-length mirror. I love that FORME has created an aesthetically pleasing product that blends into your decor rather than drawing attention and screaming, "Hey! I'm a fitness gadget!"
Also, there is something encouraging about viewing both your progress and success at the same time. And like being in a real workout studio, there seems to be some psychological impact of seeing yourself in the mirror while you're exercising — and it's certainly better than a bike or treadmill that you can easily pile clothes on top of and never look at again.
Like most workout brands these days, there is also a companion app that grants you access to all the great workouts on your smartphone and tablet while on the go. Consider the app a mini version or extension of the FORME. You can take all the same great classes, have virtual 1:1 sessions with your personal trainer, and see all of the same stats, including an overview of your current month's workouts in comparison with the previous month's with a breakdown of active minutes, recovery minutes, mindful minutes and individual class minutes. I used the FORME app on my iPad Pro and found it to be a seamless transition from the actual Studio — like looking at the Studio but on a smaller screen. It was also a lifesaver for days when I was traveling.
In case you're wondering, there is no stand-alone app subscription for the FORME, so if you want access to this brand's more than 700 classes and expert trainers, you are going to have to purchase a Studio or a Lift.
Yup, the FORME is pricey. Period. Not only do you have to pay almost $2500 for the Studio but members will also shell out $49/ month for the subscription, which is more than other connected fitness devices like the Peloton Bike +, Lululemon Mirror or the Hydrow. And if you want to add a personal trainer to the mix, you're looking at a minimum of $399 per month. What's worse: This money just offers heart rate and estimated calorie burn. There are no community features, no leaderboard, no live classes and no AI feature that evaluates and corrects your form when you are taking on-demand classes. So I'm still unsure why you pay more for the subscription.
When running the regular fitness classes on the FORME, I never had a problem. But every single time I had a training session with Joe S., there would be several points where I would be informed that, "You have lost your connection to the session. We'll keep attempting to reconnect to your network for the remainder of your session time." At one point I had to switch over to my iPad Pro to complete it.
I'm still not sure what the issue was because nothing else in my home had a problem connecting to the WIFI — including a Peloton Tread. And it is most definitely a vibe killer when you are focused and hitting your stride with your trainer and then the feed cuts out. When I asked FORME's customer service, I was told that it could be my Internet connection — however, with everything else running perfectly well on my WiFi, I have a hard time believing this.
FORME suggests keeping the Studio on sleep mode rather than fully powered down. This not only makes it quicker and easier to get started with your workout (it awakens with a single touch) but it also means the software will get automatic updates. The problem was that it was almost too easy, and if I did even graze it while going about my day, the Studio would make a revving sound followed by a ding, then take a count of 10 before going back to sleep.
Again, not a deal breaker but it did start to get on my nerves.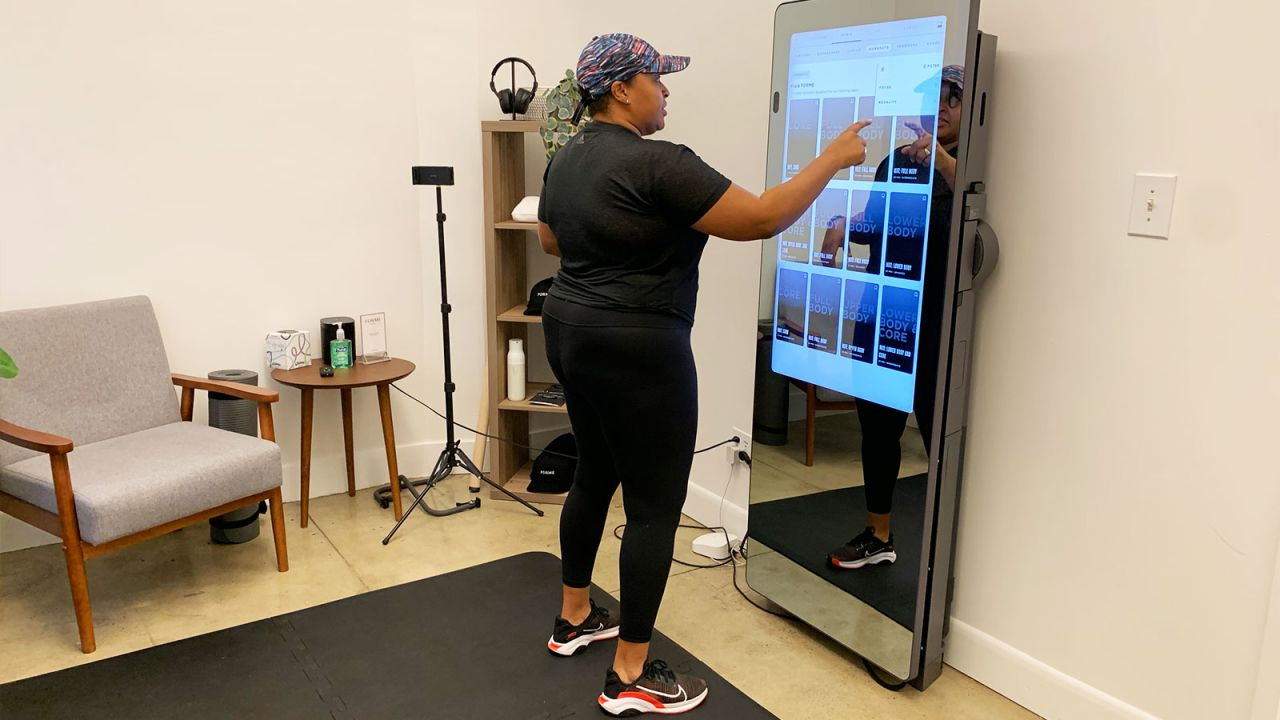 The FORME Studio is great if you like taking great on-demand classes on your own schedule with the option to add on personal training. If you're looking for more features, there may be other connected fitness equipment options that are similar but a better fit for your needs.
One such gadget is the Tempo Studio Home Gym. Starting at $1695 (down from $2495), the Tempo starter package—a less expensive option than the FORME Studio— comes with four collars, 75 pounds of smart weight plates and two 7.5 lb dumbbells, a workout mat and access to more than 3000 classes. This brand also offers 1:1 personal training, but for only an extra $30/month. Take note: While the monthly membership fee for this connected fitness mirror is only $39/month, which is lower than the FORME Studio, you will be saddled with that fee for 12-months, even if you decide to cancel your membership.
The Lululemon Studio Mirror comes in at $995 (including stand, lens cap, and limited warranty), which is about $1500 cheaper than the FORME Studio. It also offers access to more than 10,000 classes, including daily live ones. You'll have to pay a $39/month membership fee, but with that you'll also score 10 percent off most gear, which is a big bonus if you rock Lululemon religiously, as well as 20 percent off in-person partner studio classes.
If you have extra money to burn, you may consider Tonal ($3995). It has thousands of on-demand workout classes as well as live ones too. Though, to be fair, this probably more closely aligns with the FORME Lift, since it comes with arm attachments that offer 200 lbs of total weight. Like Tempo Studio, Tonal will also come with a 12-month membership commitment—the FORME Studio does not have this requirement.
Price, accessories and extras aside, the size, clarity and chicness of the FORME Studio does make it a standout, at least visually, over other fitness mirrors. And if you're worried about adding it to your home decor, this may be worth the extra cash.
I love a good fitness gadget almost as much as I like working out. But what makes the Studio so special is how gorgeous it looks, in addition to offering a ton of challenging, fun workouts. And if you're going to make it part of your home, and drop that in-person gym membership, this could be worth the extra cost.
But, when it came down to it, what made the FORME most worthwhile was the 1:1 training — which will add to the already high price tag. However, unlike other fitness mirrors I've tried, the FORME makes you feel like you are in the same room with your trainer, and I got a lot more out of the sessions than I ever did using Facetime or Zoom during the pandemic.
But, for the base cost of $2500, even though I like using the Studio, a less stylish screen would have been fine for the on-demand classes. Without the community aspect, leaderboard or even day-to-day fitness tracking, the FORME is not a must-have for a home gym. Plus, I could easily use my television, my iPad Pro and even my iPhone for classes — even if these options aren't as immersive. In fact, if I had my druthers, I'd be happy to pay for an app-only subscription model to use the personal training and rock the classes (FORME: take note).
However, if you need to be more personally engaged, and you're considering a design-worthy piece for your home, the FORME is a worthy contender. Because in the end, it should make you feel like you are in the midst of a class — which makes working out more enjoyable, and helps push up your effort level. But if it doesn't, this is going to be one heck of an expensive mirror.